We would like to update you on our recent completion of the 8th International Outreach for 9/11 to 3/11 Survivor Exchange Program.
Now more than eight years after the 3.11 Great East Japan Earthquake, still 51,000 evacuees from disaster stricken areas (470,000 at its peak) continue to suffer the consequences of disaster (May 2019 report by Reconstruction Agency). In particular, children's emotional wellbeing is concerning as they continue to be displaced away from their communities and show signs of emotional stress. With generous supports of American Airlines and Rotary International, our 8th international outreach program took place throughout disaster stricken areas of Tohoku, Japan. Our goal is to empower school communities with self-motivation toward recovery by showing concrete examples of resilience and people overcoming disasters.
Below are select examples from our historical efforts:
Sadako's Soaring Crane: Together with American Airlines, we brought an origami crane monument fabricated out of steel recovered from 9/11 on our 1 st mission in 2012. This symbol for recovery from the international community dedicated for children's comfort was inspired by Sadako Sasaki, who died at age 12 from radiation exposure after the bombing of Hiroshima. Sadako's origami cranes was previously donated to the 9/11 Tribute Center and we made a symbolic return of Sadako's wish for peace and comfort for children.
Children's Storybook – Message On A Wing : We have published a children's storybook of late 12 year old girl's story about strength and courage to move forward and how Sadako's Soaring Crane monument came to Fukushima.
This storybook is touted as a "book of life" and "Hiroshima–NY–Fukushima connected with hope." We have donated more than 10,000 copies of storybooks to school children in Fukushima. Sequel of the book is in the works in English, Japanese, and Spanish. The story will continue to touch the children around the world.
Impact of Survivor Exchange Program : We continue to assess the impact of post-3/11 outreach efforts on both the 3/11 "recipient" community and the 9/11 "donor" community. The success of this outreach program may be partially attributable to the fact that it meets the basic objectives of psychological first aid to "establish human connection in a nonintrusive, compassionate manner"; "support positive coping and
empower survivors to take an active role in recovery"; and "facilitate continuity and ensure other sources of support when leaving."
Our 8th Annual Outreach to Tohoku included the following programs :
Updates on Kokorogake Iwate Program from Dr. Mitsuru Suzuki
Visit of Tomioka, Fukushima
Exchange Program between students of Stuyvesant High School and Futaba Future School
Memorial visit of "Soaring Crane" Memorial Kaiseizan Park, Koriyama
Discussion with Mayor Shinagawa of Koriyama
Discussion with Vice President of FMU, Dr. Shunichi Yamashita, Dr. Satoshio Waguri, International Relations, FMU
Discussion with Dr. Tomita and his Disaster Mental Health Team at Tohoku University
Visit of Ogatsu Rose Garden, and discussion with Mr. Tokumizu, teacher of Ogatsu Elementary School, 3/11 Survivors and Chief of Ogatsu Police
9/11 to 3/11 exchange with Dr. Hara, 3/11 survivors, and staff of Mental Health Clinic "Kara Koro Station"
Participation in the Ishinomaki Tribute Festival
Soma Requiem Memorial Visit with a former Japan Self Defense Force battalion chief and counselor
9/11 to 3/11 exchange at Public Housing Community Center, Kitahara, Minami Soma Reconstruction Public Housing
Discussion at Soma -Mental Health Clinic, KCN-Nagomi , Fukushima
Discussion with Dr. Shinichi Niwa, Senior Administrator of Social Health and Medical Practice, Dr. Atsushi Kumagai, Radiation Science, FMU
Student dialogue event: Student Reactions to Disaster after 3/11: Motivation and Posttraumatic Growth
Discussion with the Minister of Reconstruction, Hiromichi Watanabe
Prayer to Tohoku at Kasuga Shrine, Nara Shrine visit
Global Grant Presentation, Rotary District 2650 (Kyoto, Nara, Fukui, Shiga) Foundation Seminar
We would like to thank everyone for supporting the outreach program. Please see below pictures from our recent outreach: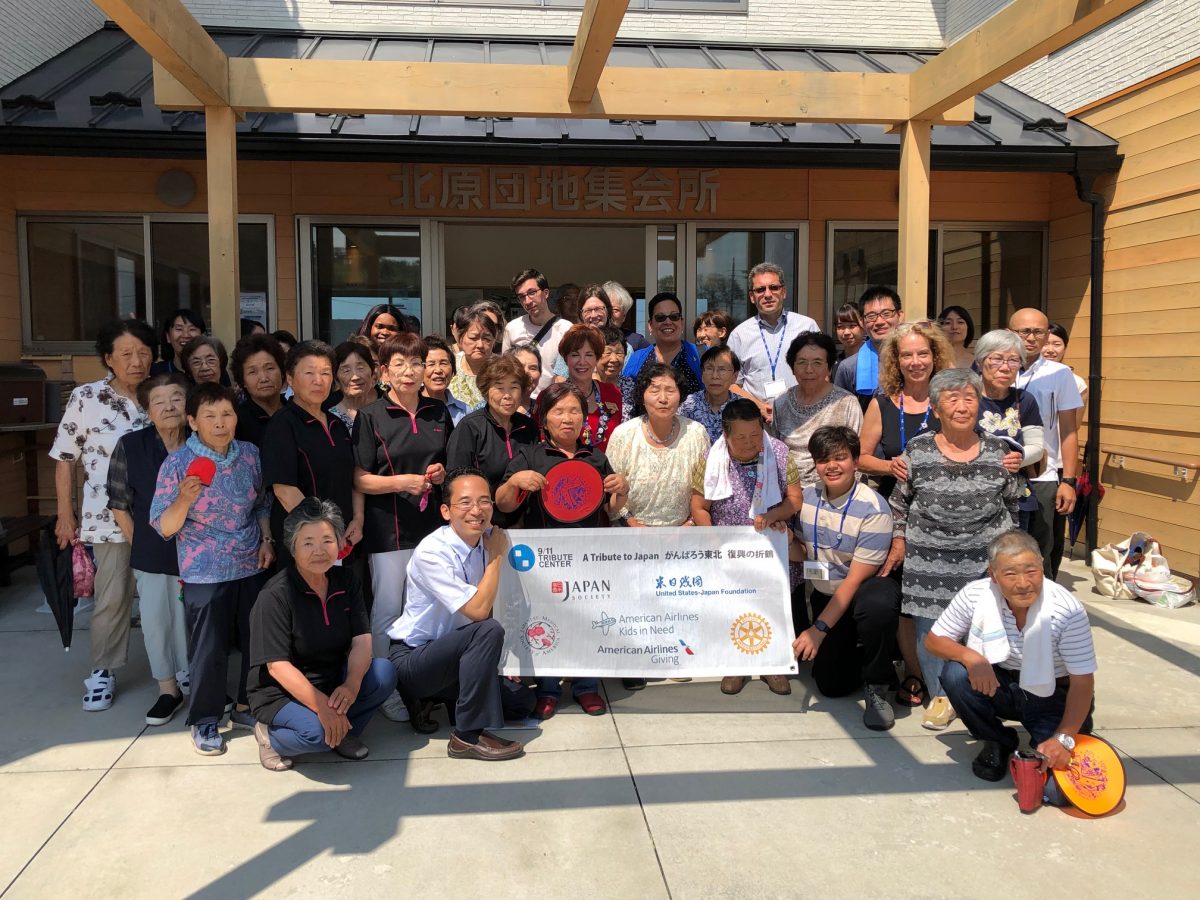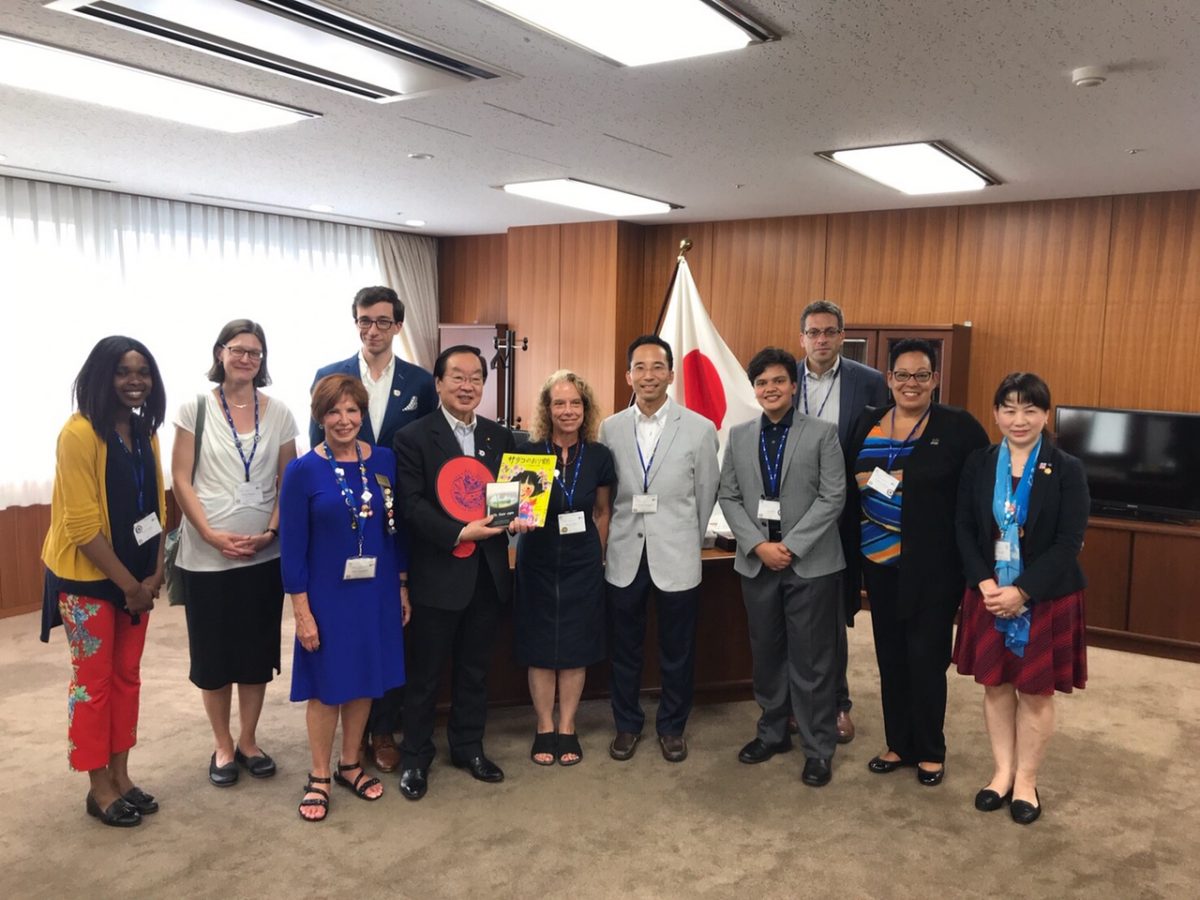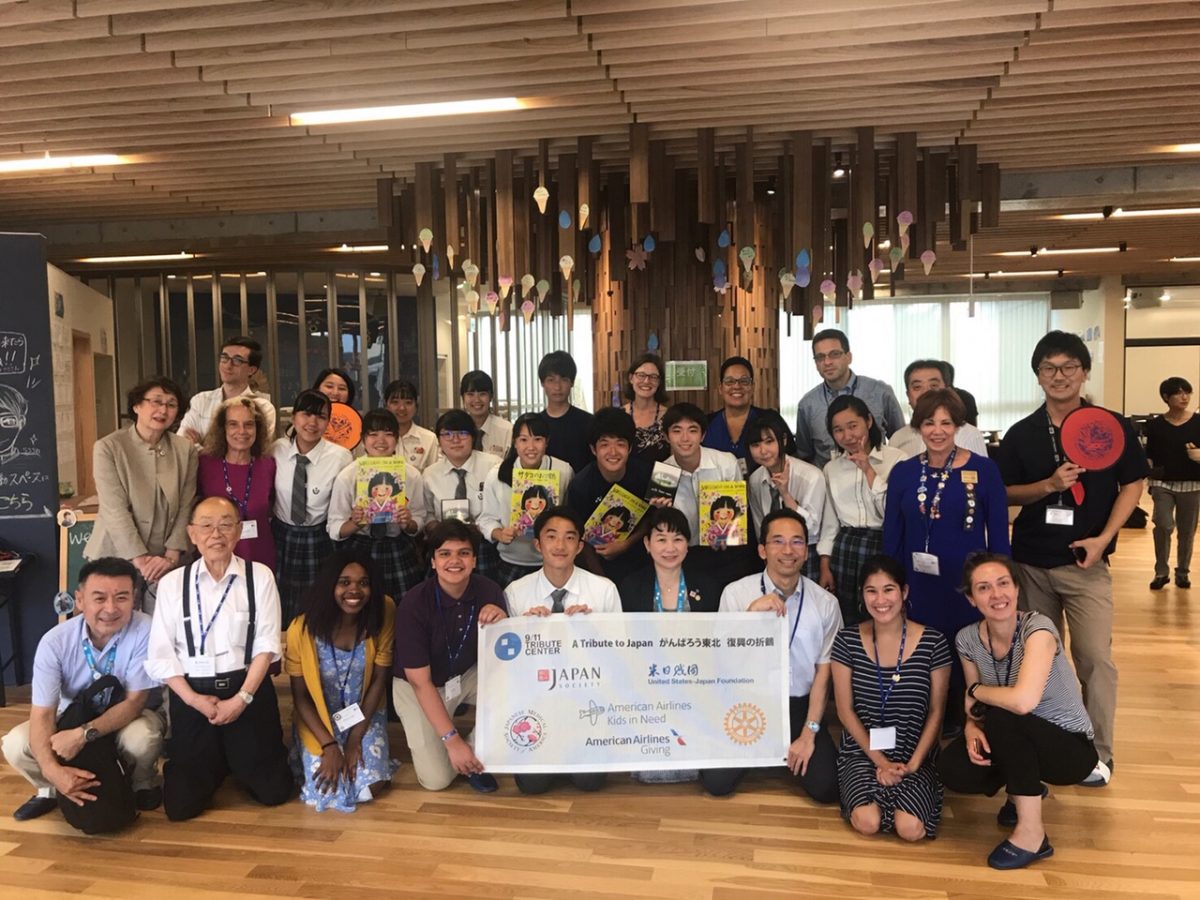 2019 Vocational Training Team Members:
Meri Lobel (9/11 resident, former Curator of the 9/11 Tribute Museum)
Jeanette Gutierrez (9/11 survivor and a docent)
Annie Thoms (English teacher at Stuyvesant High School, creator of a play titled with their eyes)
Nat Towsen (Stuyvesant High School junior during 9/11, creator of Stuyvesant's newspaper, The Broken Escalator)
Joyce Grossbard (Englewood Rotary, NJ, child psychotherapist)
Craig Katz, MD (Director of Mount Sinai Global Mental Health, Professor of Psychiatry)
Lev Katz, a rising 8th grader at the Riverdale-Kingsbridge Academy in the Bronx, NY
Ana Stacy and Marcia Lange (Medical students at Mount Sinai Global Health, exchange student to FMU)
Ikuyo Yanagisawa (Nara Rotary, President of Kikuichi Cutlery)
Robert Yanagisawa, MD (JMSA President /Mount Sinai Global Health/Professor of Endocrinology)